Memorials – how to remember? Or how not to forget? Writing this blog? To remember?
If you're new to my sustainable (?!) journey across the world, here's a menu to help you find your way: https://ourrelationshipwithnature.com/overview-overland-uk-2-nz-without-flying-eleven-stages-in-fifty-days/
For fellow travellers who might notice errors and omissions, please add your comments. In fact, all comments welcome!
It was 10:30 am on the train from Hamburg to Berlin when a young chirpy woman's voice presumably welcomes us to our journey in German, before adding, clearly, 'Good afternoon'. A loud laugh from the man near me gave notice there were not too many English speakers on the train. She said no more.
There was no ticket inspecting, as compared to Spain, where any intercity train journey is accompanied by a security check and close analysis of tickets at every opportunity. No-one ever checked tix in Hamburg. Does anyone even buy tickets apart from tourists?
As for my carefully reserved seat, there weren't even any numbers on the walls or the chairs. The man, so kind and genuine, selling me the tic in his comfortable uniform and urging me to make that extra payment of four euros fifty to reserve a seat, said, 'Hamburg to Berlin is our busiest route. It's normally full. But, you must wake up in time. If you miss it you must pay again.' All so jovial and such a big, fat lie!
I didn't miss the train. Walking to the train station was a joy. It was a beautiful sunny morning in my leafy suburb and the fallen leaves, crisp and crunchy the day before, had already turned to sludge in the soft rain. The glowing autumn colours shone through. Those old trees spoke eloquently of change and time passing. The grey mist enhanced the mystery.
On the train I found my Jess-made sewing kit and fixed my pockets and zips, particularly the wallet pocket zip. Definitely a case of a stitch in time. Could not afford a uniform malfunction in the wallet area.
Arrived safely in my cheerful Happy Bed Hostel in Berlin and thought to seek delicious German fare.
All the world's cusines are in Berlin!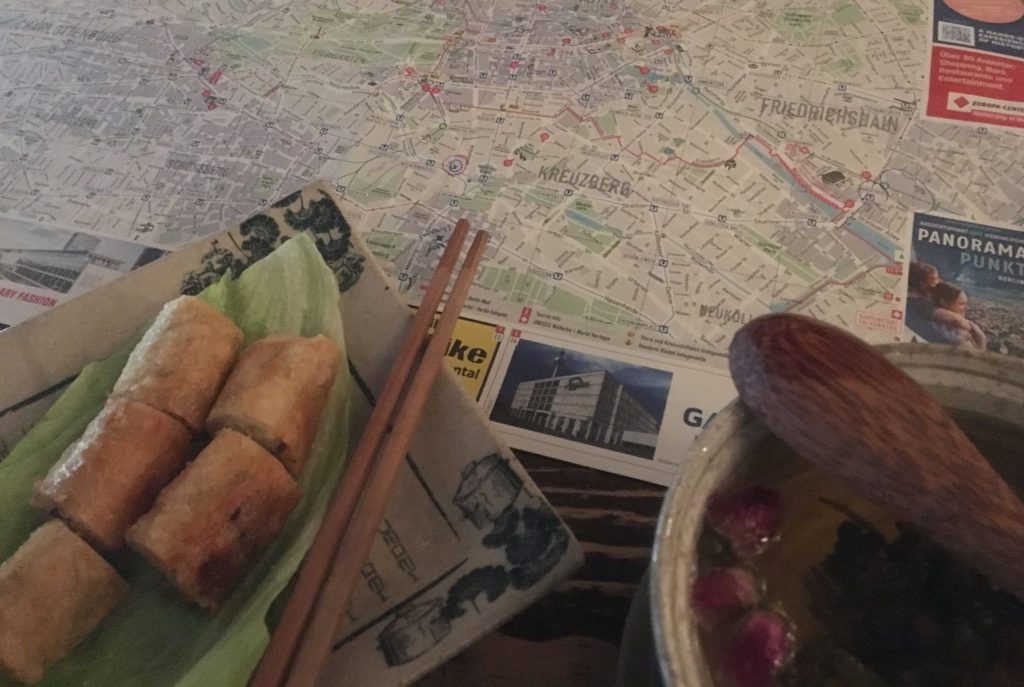 Wednesday began in Kreuzberg, with the simple idea of getting my ticket printed and doing a tour of Berlin, taking in the Spree Gallery in the afternoon. I figured the ticket might take half an hour. I began at the U station, Hallesches Tor, near my efficient hostel.
I bought a daily ticket which no-one asked to see, ever. I put it in the machine to get it stamped. Who buys tickets in Germany?
From there I caught the train to Warschauer Strasse station. Then I had to change to the S-train. I asked the only staff member I could find who was hiding in a booth and didn't want to come out. He didn't speak any English and the jutting of his whiskery chin made it plain he didn't like the idea of English. After I indicated my desired destination by jabbing at my map, he pointed to the exit. I came out of the U and looked around the streets for the S. Where was S? I started to feel I was in an ep of Sesame Street. There was considerable building, scaffolding and blocked pathways around me. I was about to cross the street to find a café with a human who might know something when I looked up. A sign!
When I got to the S I could not find a train that went to my station. It only went to Nölderplatz. You might think this is petty but when you are trying to organise ongoing travel arrangements these things can get stressful. If I had made this trip the next day when I wanted to catch the train to Warsaw, I would have missed it. So the dry run was turning into a sweaty run. But I took deep breaths. Planning ahead is good.
Back in the corridors of train world, I asked a couple of men in orange high viz and they shrugged. I figured it was better to get close to where I wanted to be and caught the train to Nölderplatz. There seemed to be no ongoing to Lichtenberg. I asked a couple of charming smiling women in high viz orange and they pointed across the suburb and waved and danced the information that I could catch a bus two streets over. Schliststrasse? Schillerstrass? So I wandered out of the station, into a nice park, saw a bus stop that did not list Lichtenberg and wandered two more streets, past a skateboard park with no graffiti and a man in his fifties practicing his skate moves in his dark blue raincoat. The yellow leaves made sharp contrast with the grey concrete curves.
I saw a promising orange bus. It did not list my name so I went to the other side, just missing another. Then I returned to ask a oncoming driver of the first side. He pointed at the other side. Why did I cross the road? To make sure I was facing the right direction. Finally a bus arrived. I asked for my station. He shook his head, staring ahead. Oh, dear. But then, in the nick of time, he remembered! Yes! Get on, get on, so I did.
The couple in front of me looked worried and turned back to examine me. Lichtenberg, they muttered to each other and shook their heads. I had no-where else to be but time was ticking on. I would get somewhere. I looked out of the window at the grey day. The blocks of flats were either grey or cream or off-white or taupe or beige and the paint was flaking but the parks were always present with their glowing gold and orange tints growing bolder through the greenery. People in the streets wore olive green, brown, black and navy coats.
We arrived at a large carpark with a small bike-stand array (why are there so many cars in Berlin?) and there was Lichtenberg station.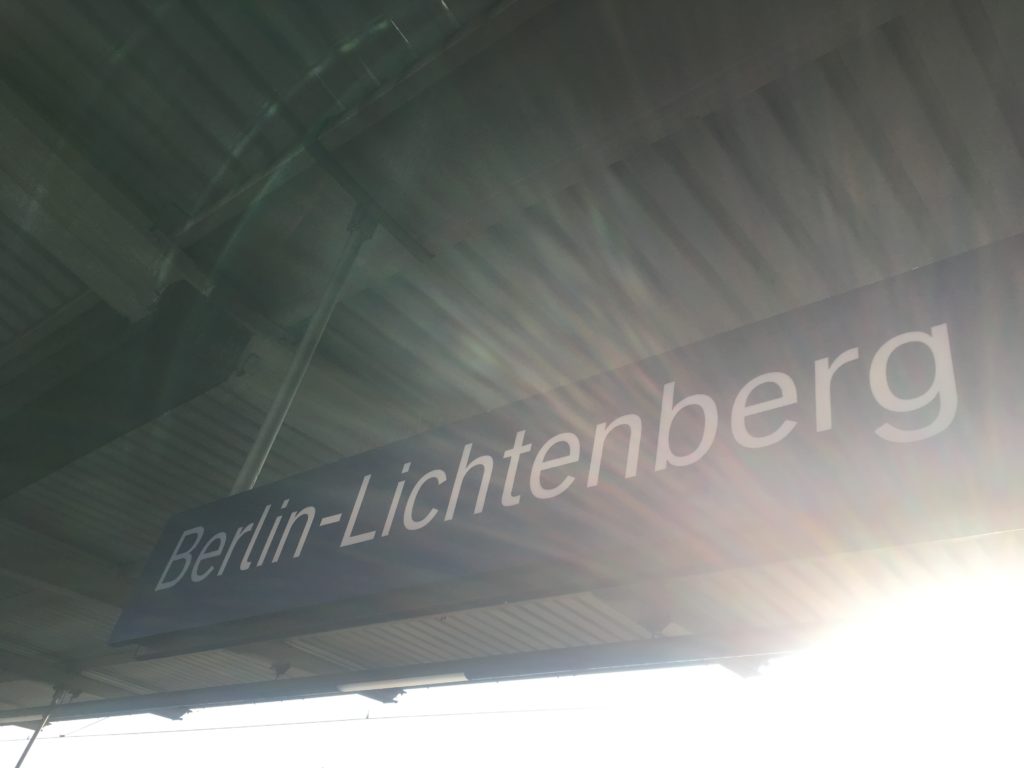 It was quiet. Shops were shut. Informative signs in German guarded the stairwell. I found my ticket machine, chose the Union Jack and looked for a pre-paid ticket option. I patted and tapped all around the choices open to me. I couldn't find it. Luckily, I was standing right next to the information desk. I went to stand in the queue stretching out into the hallway. There seemed to be an invisible forcefield around the workers' counter. Only one person could fit into the shop in this queue. At least two metres separated our first contender from the desk. Purposeful German chatter filled the air as the two assistants organised tickets and directed people. I took deep breaths.
I got the old guy with a white beard. I apologised for speaking only English and he stood up, as if to go, and on second thoughts towered over the printed information I offered him. English? What is English? Reluctantly, quickly, he read my journey details and told me to go to platform 16. I indicated no, not now, tomorrow. And tried to explain I needed to print the ticket. He shouted, 'Machine! Machine!' and pointed with vigour at the place from whence I'd come. I said, 'But I can't … ' He said, 'Machine!' and turned to go.
He swung back to look at the next person in the queue. You can bet I was saying Bitte and Danke all I could but, really, this guy was working in the information desk? In Berlin? In an international station? Are all their patrons German? I went to look at platform 16. At least there were no barriers across it. I took deep breaths and headed to the WC for extra calming. A little queue in front of the shut doors looked worried and held money and one guy at the front had even managed to print a ticket. But it was closed. A large woman wearing a floral scarf around her neck and a taupe jacket stretched across her front marched to the machine and talked to the young man commandingly. Perhaps he had broken it? No? That was that. She had enough and left. The WC, the entire station, was not functional today.
Considering my options I thought the best thing to do was return to a place where I had once found kindness so I returned to the air and went to find U. Finally, worked out how to get to Alexanderplatz on my path to return to Berlin Hbf (of which I had fond memories). Alexanderplatz is where that big tall landmark tower is.
On my way to find the S I saw an information booth and stood in a queue there. After a while the lovely smiling woman showed me a photo-card of the correct options in the machine. You have to choose 'All Offers' and 'Bahnof tickets' and then you are given a choice to put in your number or voucher. Job done. It had taken me nearly two and a half hours to print my ticket.
There were a lot of people sleeping rough, especially around the train stations.
I won't go into the struggle to find a café, although there was one, my decision to head towards the Brandenburg Gate to take a tour regardless of lagging vim and joyfully, on the way, by chance, finding a brand new café called 'Beets and Roots' where they really do treat you like a rock star (my name was Bradley Cooper) and the food is delicious. I sat outside in the silvery sun and had an ongoing discussion with three kamikaze wasps. I believe all three survived in the end. Greedy things.
How much of Berlin's landmarks were blasted by allied bombs? 80% of the city.
The Brandenburg Gate was familiar from much film and tv. The lady with the chariot and prancing steeds was apparently once called 'Peace' but after Napoleon stole her away to the Louvre and the Prussian return, she is now known as 'Victory' and carries the German Eagle to show her people fresh resolve. (How did Napoleon and indeed, the Prussian victors, get her on and off the gate? Were there cranes?) It memorialises war, victory and ownership.
My guide was called Susan Grouchy. She had a masters in archaeology and had returned to uni to study memorials. Berlin is the obvious place for such an endeavour. She was not originally from Berlin but urged us to find not only physical memorials but people who lived here. They would be sure to have some interesting stories. What do they remember?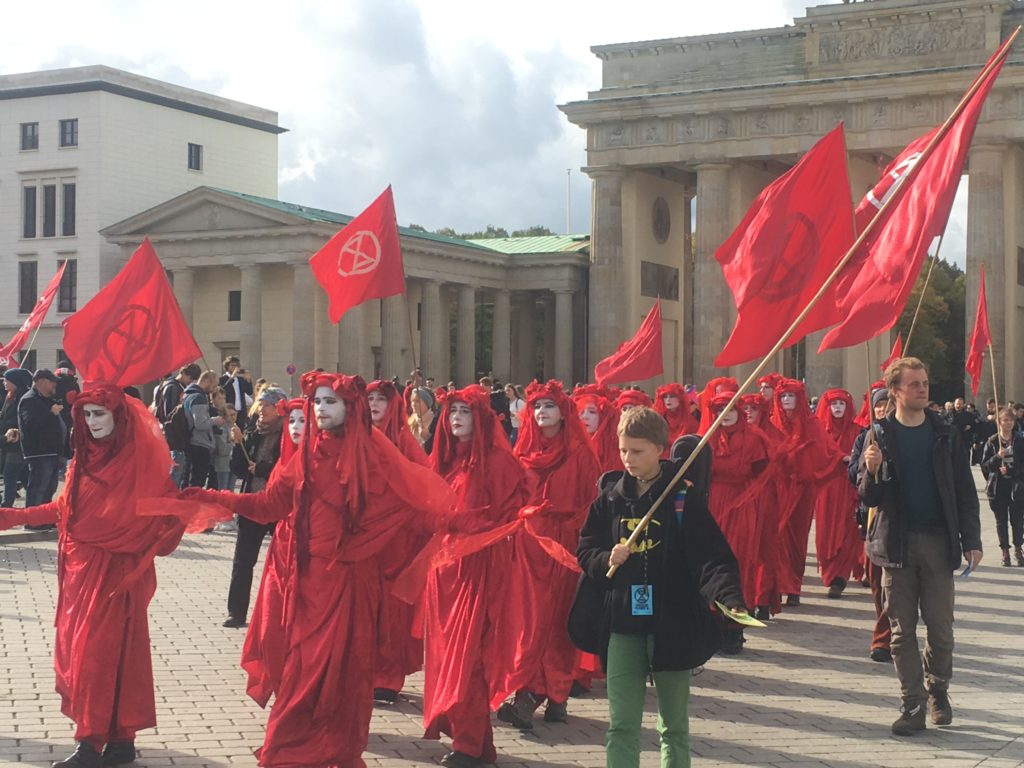 As well as the roads steeped in history, from 1250 onwards, there was a group of vibrant red Extinction Rebellion protestors gathering, silently swaying, palms skywards, flags fluttering, white faces grim, making a bold statement against the grey imposing structures around them.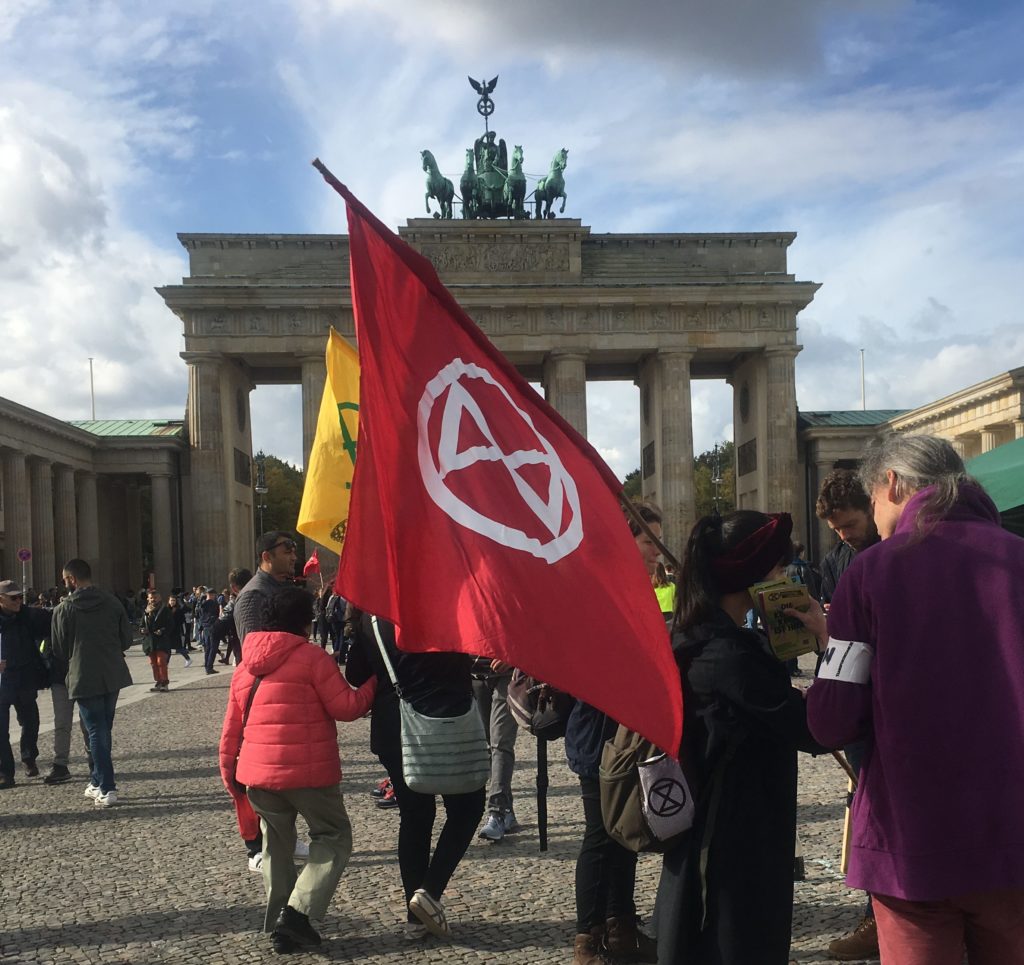 Can such a people-based movement rise up once more in this city of peaceful protest? When the Berlin Wall came down thirty years before hundreds of thousands of suppressed people took to the streets to come and see for themselves if the travel restrictions had been lifted? And the guards did not open fire. There were not enough bullets to shoot everyone and the time had come for the German people to come together again. The walls came down.
Now the fight is not so tangible. You cannot see climate change. You cannot smash it or break rocks from it. You cannot paint it with colourful visual poetry. Is the time right for people to see a change in how corporations use fossil fuels? Can we shoot the typhoon headed for Japan?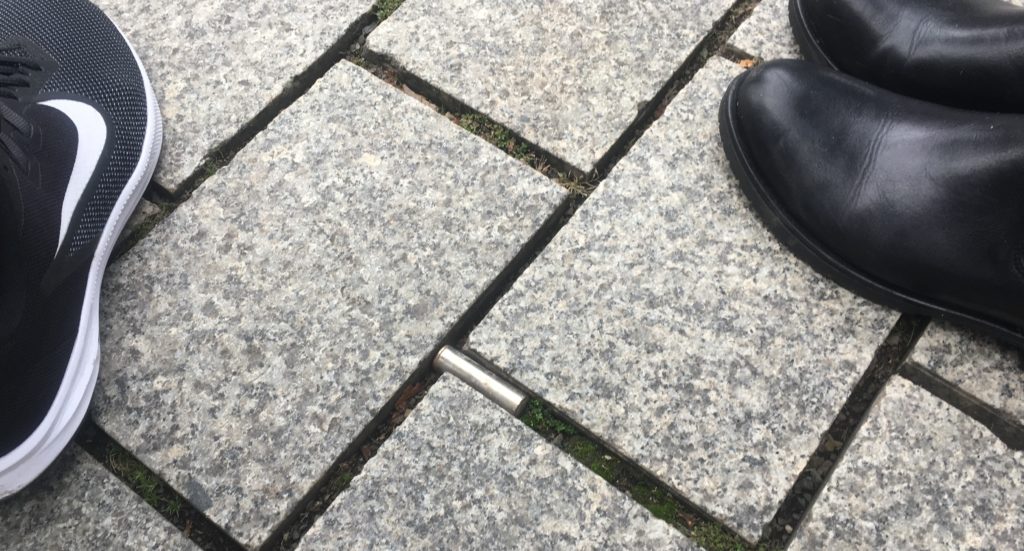 In this German, Berlin, backdrop, the Rebellion took on a resonance that it had not had in Brighton. I did not see cheery dance classes or breast-feeding women blocking streets here.
Susan took us to the great and sombre grey block Memorial to the Murdered Jews of Europe. There are other memorials to different minority groups singled out for extinction elsewhere but this Jewish memorial is imposing, belittling, awe-inspiring. I can see how politicians might feel when they take a break from the nearby Reichstag, with its glass dome to symbolise transparency, and visit this neighbour. You must interact with it. You must consider the shapes and individuals and be overwhelmed by the height of it. Lost cities. Lost dreams.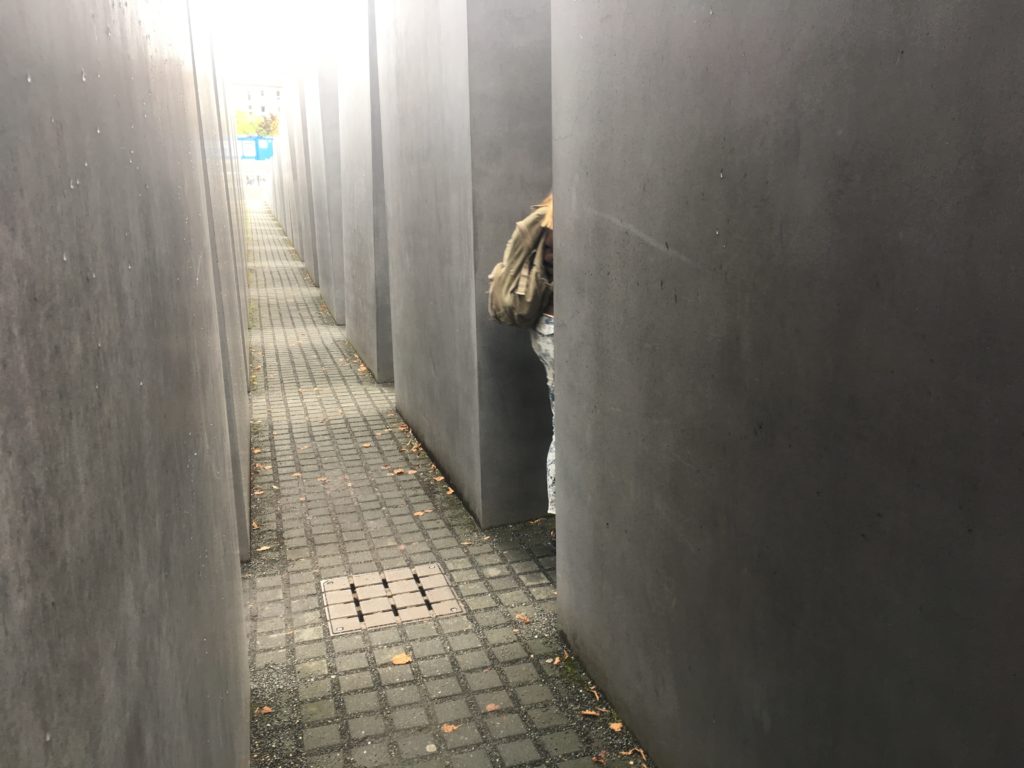 Our guide, as student of memorials, encouraged us to consider these effects. She explained what the artist Peter Eisenman stated; that it was designed to produce an uneasy, confusing atmosphere, and not stated; that any numbers or shapes were symbolic in any way, in his presentation to the city.
In the end each individual's response is personal and how I wish everyone in the world in power had to come to this place to consider their responsibilities. People making, negotiating and dealing in missiles, arms of any kind and tanks with a view to harm and destruction should come to this place. The humans on the UN Security Council, they should come here.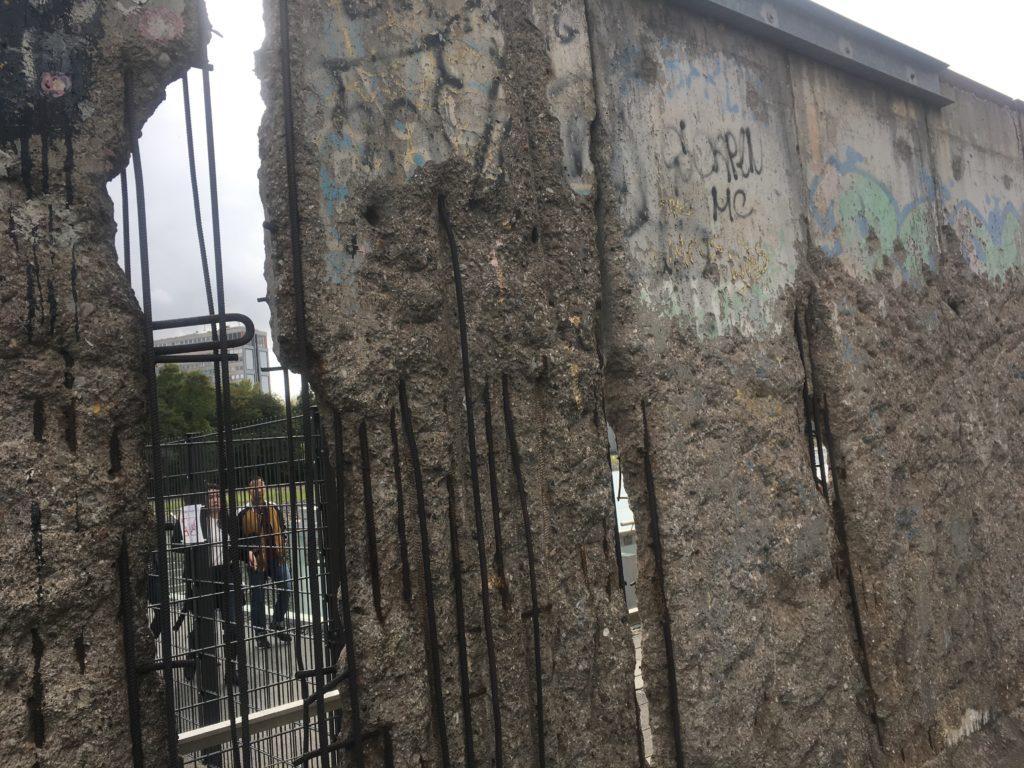 Marching along the remains of the wall, so weak and thin, she told us of Amplemann and obeying the pedestrian signs, or else.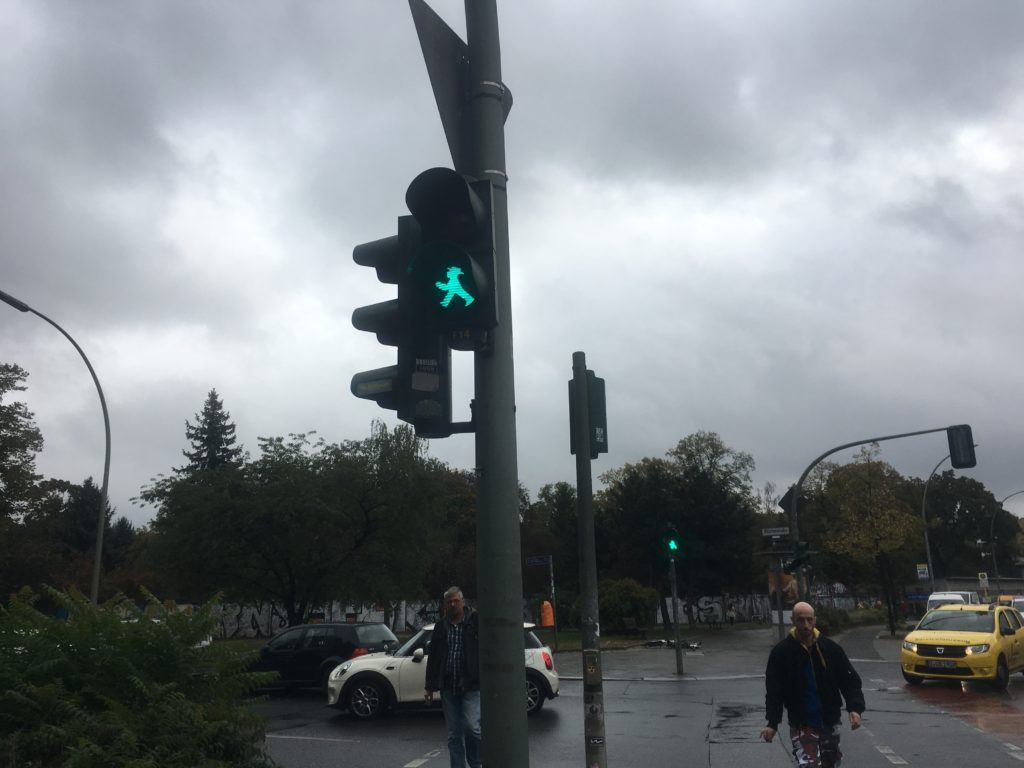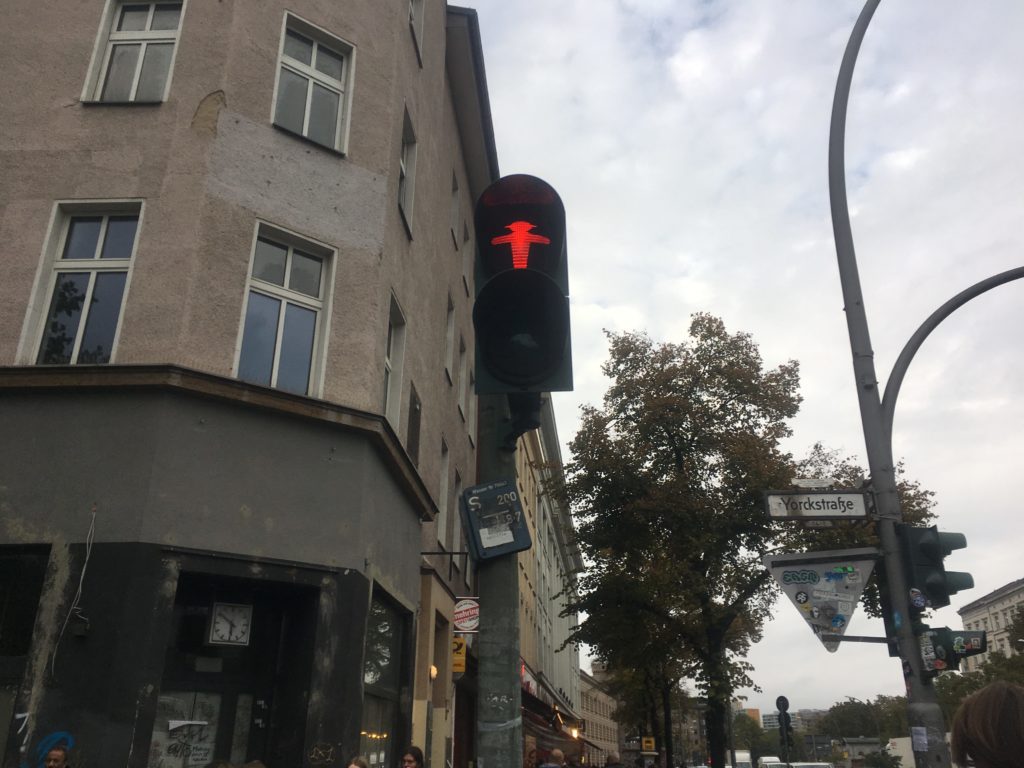 She took us to the car park over the bunker where Hitler ended his life. She showed us the work-places of Goebbels and Himmler. The great grey sideways skyscraper where the Lufftwaffe was based, now the taxation office. She took us to the cheery tourist ridden Checkpoint Charlie, overlooked by KFC and Macdonalds and other brazen honeypots. She showed us the cobbled reminder of the wall but she did not point out the small brass squares, brightly (recently) polished that we walked past.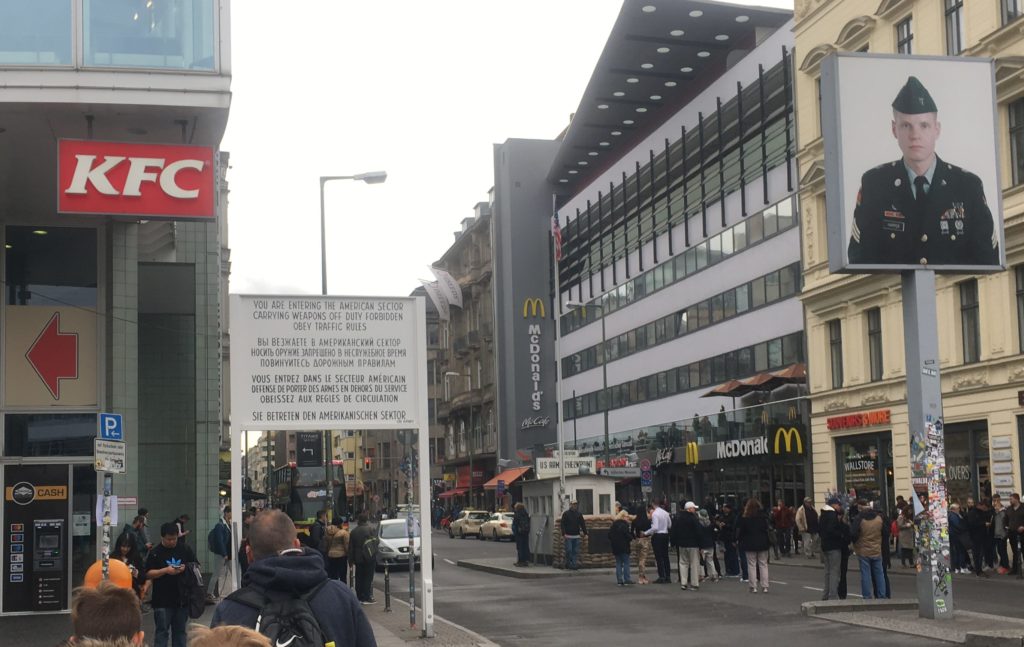 The German and French Cathedrals (copies rebuilt by the East Germans to show what Berlin used to look like) stand on opposite sides of the Konzerthaus. Nice they are brought together by music.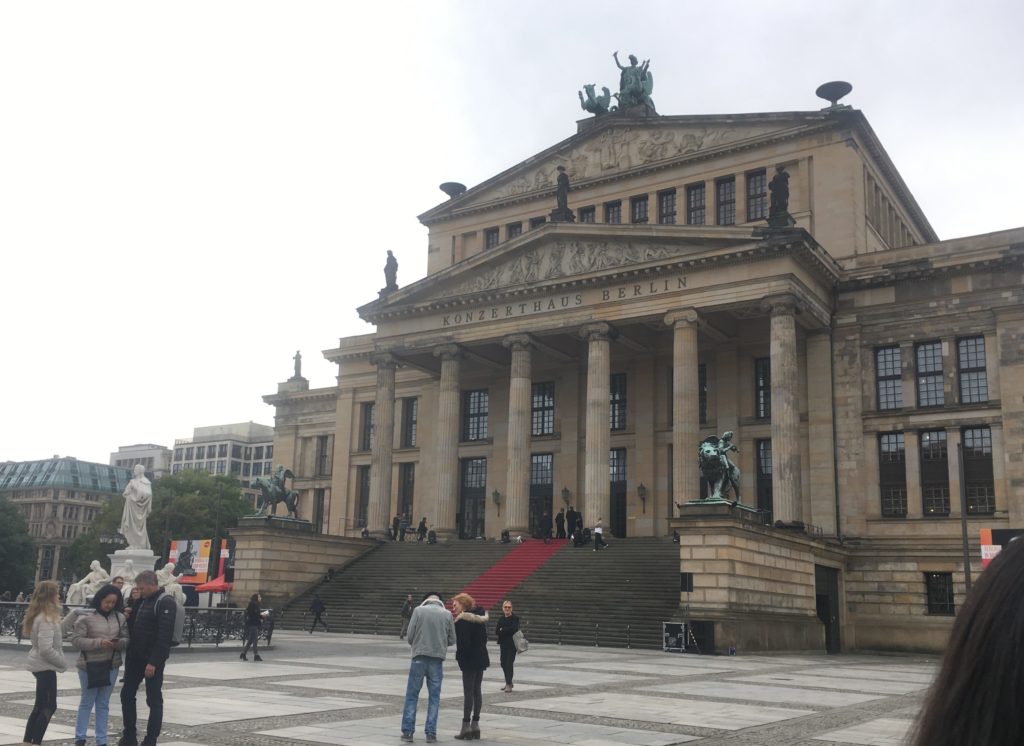 And the Konzerthaus had a red carpet pleated up the tall stairs to the grand entry. Exciting events during the 30th anniversary of the Wall coming down.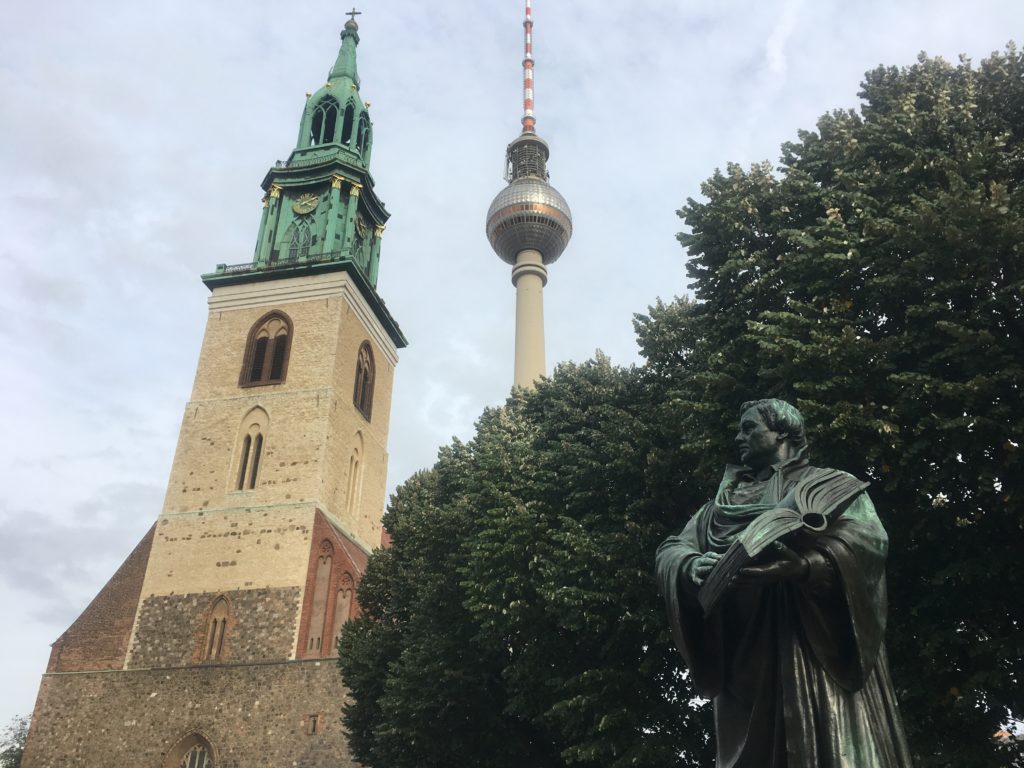 All is building, barriers, perhaps in preparation for a thirty-years party – or the Festival of Lights – but many buildings under construction or renovation and of course, the S-train is to be improved. About time. There is surely room to improve the signage! Many police officers and cars in evidence – if it was for the Extinction Rebellion they were over-prepared. The people had not come to the streets in any great number. Why not?
We ended up in the Bebelplatz facing the Humbolt University Law Faculty which used to be the library. This is where an angry mob burnt 20,000 books. Books written by Jews, homosexuals, non-Aryan … The memorial was a deep bunker of empty white bookshelves in the middle of the plaza. Then Susan led us to a corner to sit and told us the story of how the wall came down. She managed it with aplomb and shivers went through my spine as she described those Berliners watching Gunter on tv turning to each other in disbelief. What did he say? And the walls came down.
She told us the quote, 'History may not repeat, but sometimes it rhymes.' Could be Mark Twain.
Never made it to Spree but my taxi driver in the morning was a Berliner. He spoke English extremely well, having grown up in the West. He'd visited Australia when he was a kid. He said he feared he was a rare oddity in this international city. I assured him there were plenty of old white German men who did not wish to be part of the tourist flood, most of them working for train stations.
He remembered when the wall came down. He was twenty and ready to party. He hated David Hasselhof for stealing the moment. He thought Paul Weller should have come. He was still waiting for Paul Weller.
Walls come tumbling down

You don't have to take this crap
You don't have to sit back and relax
You can actually try changing it
I know we've always been taught to rely

Upon those in authority
But you never know until you try
How things just might be
If we came together so strongly

Are you gonna try to make this work
Or spend your days down in the dirt
You see things can change
Yes, an' walls can come tumbling down

Governments crack and systems fall
'Cause unity is powerful
Lights go out walls come tumbling down

The competition is a color TV
We're on still pause with the video machine
That keep you slave to the H.P.

Until the unity is threatened by
Those who have and who have not
Those who are with and those who are without
And dangle jobs like a donkey's carrot
Until you don't know where you are

Are you gonna realize
The class war's real and not mythologized
And like Jericho you see walls can come tumbling down

Are you gonna be threatened by
The public enemies number ten
Those who play the power game
They take the profits you take the blame
When they tell you there's no rise in pay

Are you gonna try an' make this work
Or spend your days down in the dirt
You see things can change
Yes, an' walls can come tumbling down



Paul Weller
Speaking to another young Berliner, she said, 'It is a city to make memories in.'
Another of the questions Susan asked us to consider was, 'Why are so many Berliners DJs?'
I was sitting next to a young fellow on the train on my way to Warsaw. He was editing some music on his computer – listening intently to his headphones. Maybe I'll ask him.
I'm heading to Poland!
Then try Stage Four – Warsaw!